Our History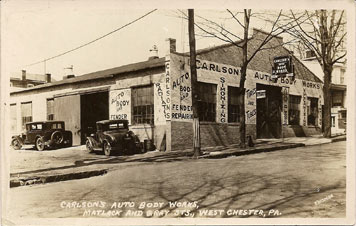 Carlson's Auto Body was founded by John Elmer Carlson in April of 1954. He was the second generation in the auto body business following in his father's footsteps who started his business in West Chester in the 1920's. (That business is still owned by Grand Sport Auto). Carlson's Auto Body's original location was on Matlack Street in West Chester and is the current home of Safe Harbor.
After WWII, John Carlson worked at County Chevrolet in Media until 1954 when at that time the Lima Fire Company moved into a new building leaving a vacancy and an opportunity for him to start his own business.
For the next 20 years, John Elmer worked as a one man operation having a few employees from time to time. All that changed in the early 70's when his son Eric joined the business full time after 3-4 summers of apprenticeship. Eric was trained by his father in all aspects of the trade but was most passionate about the paint and refinishing operations. Eric is in his 38th year in the business and still runs the paint department and is President of the company.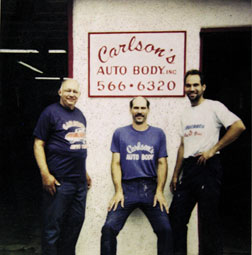 In the early 1980's, John Elmer's second son Gunnar joined Carlson's Auto Body, knowing that the auto body trade was going to be his future. Gunnar learned from his father and older brother and took interest in the assembly and workings of a car. Gunnar is Secretary/Treasurer of the company and is passionate about helping people, dealing with customers and hearing their reaction to the finished product.